TL;DR: We are thankful, happy, growing fast and if possible - even more excited for the upcoming 12 months than we were for the past 12 months.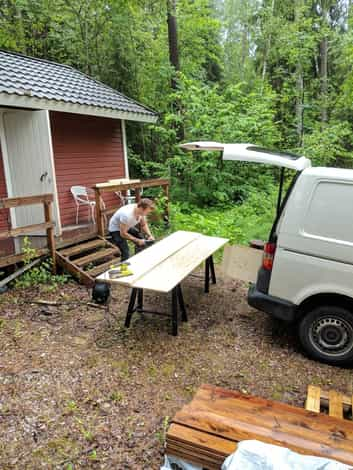 From the very beginning we have believed that companies need to be built - 1 table at the time.
It was the last days of June 2018. We (Toomas, Tuomo, Joel - three lonely founders on a quest to modernise the rental industry) were packing Joel's van with our old furniture. Next stop would be Tuomo's family's summer cottage, where we would find tools to build our first office table. The story of Rentle was starting.
We had just received a small investment and a grant from Business Finland to validate the challenges of the rental industry. With the 80.000€ budget we would be able to operate for the next 6 months, so we said thank you to our former awesome employers & customers: Futurice, Reaktor and Qvik. We would now put all the learnings from these companies into test - by using methodologies such as Lean Service Creation and simulation based design to validate our assumptions on the rental market...
...and the methodologies proved to be invaluable. Six months later we had validated a problem worth solving in the market, gathered immense amounts of customer understanding and built the first MVP. We had lived & coded in a caravan while visiting tens of rental companies around Finland (even Santa Claus gave us a couple of leads). Our MVP was going live at Laajis (our first ski resort customer) - and all of Laajis' in-store rentals would now go through Rentle.
The best way to understand the customer, is to sleep & develop your product in their parking lot.
In March 2019, we announced our pre-seed round of 250,000€ with some of the greatest business angles and investors in Finland. And so we grew from 3 founders to a team of 10 during April-June. Now we have also upgraded our office table - still self-made but a bit larger.
In June 2019, we had a bigger table but not enough chairs - sorry Jonathan. Maybe we are outgrowing our 30 sq. meter office 🤔
But most of all during the past 12 months, we've had the pleasure to work with some of the most forward looking companies in the rental industry. Laajis has been using Rentle from the very beginning, when we released our first MVP in January. Soon Lapland Safaris and Lapland Hotels joined and have, together with other customers, been driving Rentle towards the solution it is now - and what it will be in the future.
In the past year, we have built Rentle from zero to a constantly evolving software that has handled over 4000 rentals, served over 6500 consumers, deployed features on a weekly basis and increased profitability of our customers. Maybe this is the reason we got accepted to Kiuas Accelerator - the best & most appreciated one in Finland.
We go live with our features as soon as they are solving the problem. Then the solution constantly evolves based on customer feedback.
At this 1-year-mark, we would like to thank the Rentle team, our investors, partners and most importantly our current and new customers for the journey thus far. Let's make the next 12 months even more successful by creating increasingly better rental experiences together!
- Rentle Founders (Tuomo, Toomas & Joel)